Viva Barranquilla: a high-end mall in Colombia
Viva Barranquilla is a mall located in Barranquilla, the capital of Atlántico State in Colombia with 1.2 million inhabitants. Barranquilla is the largest city in the state and has the second largest port in the northern Caribbean Coast.
"Viva Malls" is the largest chain of shopping centers in Colombia, with more than 110 years in the retail business and 20 years of expertise in real estate. The brand is part of "Grupo Éxito", leaders in shopping malls in Colombia. Grupo Éxito also has a presence in Uruguay through brands Disco, Devotee and Géant Groups, and in Argentina with the brand Libertad. The group believes that innovation will disrupt the traditional retail model and that digital transformation will completely change the customer experience.
With many high-end stores, such as Adidas, Diesel and Body Tech, Vila Barranquilla is visited by many shoppers looking for a great shopping experience. While the mall is indeed heavily trafficked, it wasn't providing shoppers with optimal digital connectivity. Customers were looking for the omnichannel shopping experience: people wanted to check items from a store in an online app, and then go to the physical store to try it out. Users weren't able to leverage online sales and the connection to different platforms and applications to allow the immediate exchange of information, plus access to exclusive discount coupons. One reason for this was because the mall was built in a more traditional architecture which consists of many "closed" areas that create physical barriers.
Realizing that something needed to be done, Viva Barranquilla partnered with QMC Telecom.
Villa Barranquilla & QMC: focus on the user experience
The retail strategy was quite simple before the rise of the Internet: all stores needed to do was to invest in some offline advertising space. Going to the mall was one of the most entertaining activities for people of all ages and social classes. Today, shopping malls face many challenges, the most prominent being that buyers can find basically anything online and have it delivered to their door. This directly impacts a mall's visitor flow and frequency.
Nowadays, when local visitors – and especially tourists – go to a mall, they are looking for a great shopping experience, and connectivity plays a key role in making that happen: being able to place a call to your friends and family so you can meet them; sharing an item you really like with someone special; posting Instagram pictures and videos on social media; leveraging omnichannel possibilities, such as finding a specific item online and taking it to the offline world – the possibilities are endless!
From the perspective of mall operators, connectivity is important to collect information about customers to better understand their needs. Without proper information, management cannot make data-driven decisions on how to improve their business.
According to CB Insights, "State of Retail in Tech – Ahead in 2020", the five main areas where malls will use disruptive technology and big data are:
Smarter stores: Virtual reality and AI will fuel better shopper and inventory tracking, as well as enabling cashier-less checkouts.

Blue light specials 2.0: More electronic shelf tags and mobile shopper analytics to get the right deals to the right shoppers, driving loyalty and profitability.

Just for you: Through the use of AI, retailers and brands will "know" consumers via facial recognition. As a result, consumers will expect even more personalized experiences.

Level-up shopping: Retailers will deploy augmented and virtual reality across platforms to enable sampling, product interaction, and customer service.

Retail everywhere: Smart vending and online-to-offline (O2O) pop-ups will multiply. It will become crucial for retailers to expand their understanding of the customer purchase journey.
Needless to say, all of these innovation fronts require quality connectivity to work. Even though most malls have Wi-Fi systems, Wi-Fi alone cannot handle all data throughput and is also dependent on the user's willingness to connect to the network. In addition, Wi-Fi presents security limitations.
First thing's first: designing the solution
Viva Barranquilla knew that their shoppers needed to have access to all the benefits that connectivity brings. When QMC partnered with the mall, our engineers conducted a walk test to check the prevailing connectivity levels inside the mall. We learned through that test that, due to physical barriers, the outside signal couldn't penetrate the mall, thus making a dedicated indoor DAS system a must.
The main challenge for this project was to design a DAS system that could fit the carriers budget as well as provide quality connectivity to the end user.
As with many malls, Vila Barranquila was concerned about whether the system implementation would interfere with the mall's architecture. QMC's team of specialists were able to assuage this concern after showing how our extensive portfolio of implemented systems account for existing structure and design. Our antennas are generally perceived as a smoke detector or a security camera. We take the venue aesthetics very seriously and work hard to make our antennas indistinguishable from other indoor electronics.
A unique indoor coverage challenge
The project was developed as a Passive DAS System with distributed antennas. It consists of 4 sectors that provide coverage and capacity to the shopping center as follows:
Sector 1: Basements -3, -2, -1 and Level 1, North side
Sector 2: Levels 2, 3 and 4 North Side
Sector 3: Basements -2, -1 and Level 1, South side
Sector 4: Levels 2, 3 and 4 South Side
The construction phase went smoothly: the construction took place within the expected timeline and there were no interferences or unforeseen events. The work was clean from beginning to end and no problem was registered with any of the mall stores.
In the first month we finished levels 3&4 (where the food court, gym and cinema are located). Then in month 2 we moved to levels 1 & 2 (mostly stores) and the basement parking lot. The whole mall was covered in less than 3 months.
The project implementation was done during weekdays from 10 pm to 7 am, Sunday to Friday. On Saturdays, no work was completed as restaurants and the movie theater were packed with guests.
An important part of the project was the re-modelling: since the mall is constantly altering its inside layout, QMC proactively worked with the mall's owners after the installation to guarantee the QMC quality of wireless signal.
Results: customers ready to connect & shop
Prior to the implementation of the project, our anchor carrier client (and the other operators) was practically without cellular signal service in the shopping center. The average RSCP signal level for 3G technology was -121 dBm and the average RSRP signal level for LTE technology was -111 dBm. To put this into context, a "good" cellular signal average for 3G technology is RSCP greater than -85 dBm and for LTE technology it is RSRP greater than -95 dBm: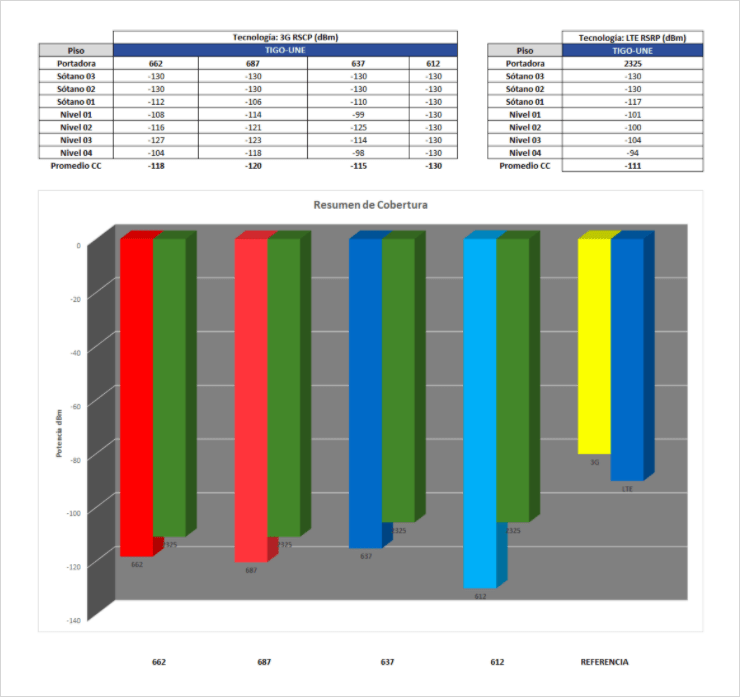 After the commissioning of our system, 99.98% of the RSRP samples for LTE technology are greater than -85 dBm, thus confirming the excellence of the service provided by the implemented solution: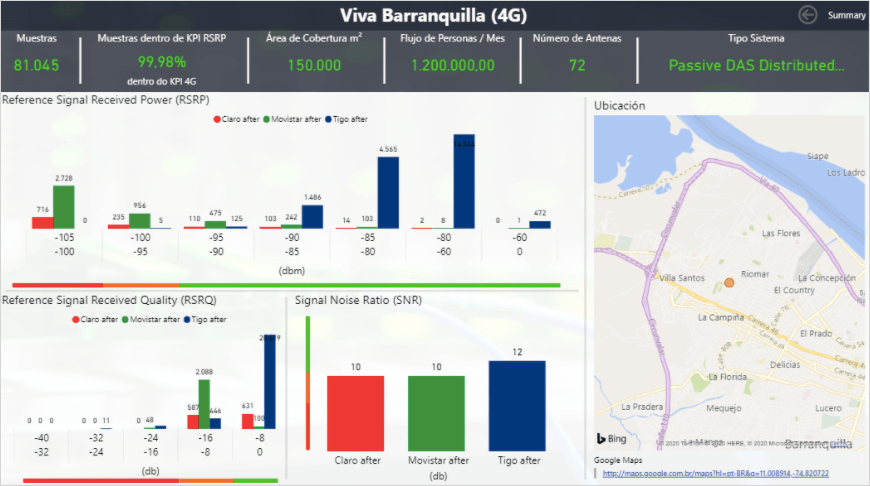 The customer has the final word: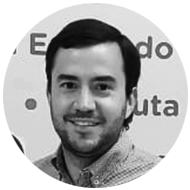 "QMC was the best choice to implement the DAS system to solve the communication issues that we had in our mall. Professionally done, without interference or unforeseen events, our clients now have a better connectivity experience." Ricardo González, Real Estate Asset Manager, Grupo Éxito